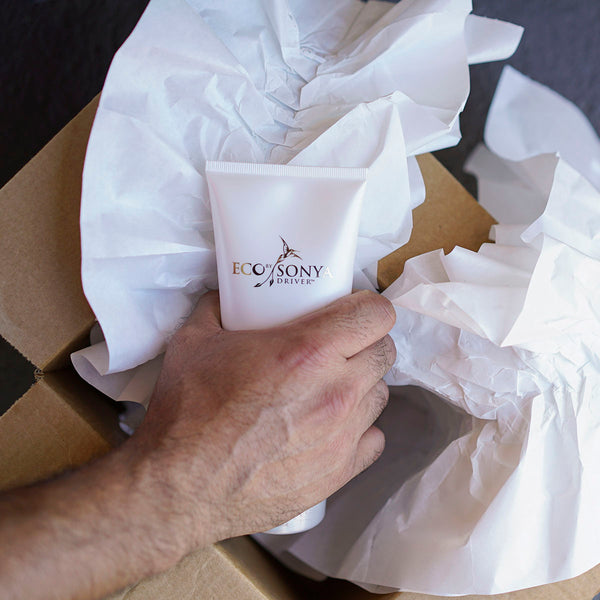 Ethics & Sustainability
We are committed to continuing to find ways we can make positive sustainable changes within our company. 
All of our packaging is made from either glass (which is endlessly recyclable), sugar cane plastic, or post consumer recycled materials (PCR). 
Our office and warehouse run on solar power.
We hold frequent competitions with our staff to come up with new ideas on how we can improve and find better, efficient practices as we grow. We are always evolving together as a company.
Our goal is to be completely paperless, and we are on our way. We started by emailing all order invoices rather than printing paper ones. We are reducing paper every day to the point where we have to disconnect unused printers, and constantly look for opportunities to turn any printable process into paperless.
We don't accept plastic into our warehouse, and have asked all suppliers to send their packages with no plastic. 
It is so important and essential to us when we partner with a company, that our values and ethos are aligned. We have recently partnered with GreenFleet, and we couldn't be a better match. We donate to them regularly and they plant native trees for us.
As a business, we offset remaining carbon emissions with the purchase of carbon offsets, in order to do our part in reducing our impact on the environment. We place high value on ensuring our business practices are sustainable, socially conscious and environmentally friendly and see high value in investing into projects which will make our world a better place. Our carbon offsets also support local Australian native reforestation projects.
This is our journey and we know there is always more to learn and ways to grow. We are dedicated to evolving to ensure we have a greener, cleaner future for our planet and all that share it. There is no better time than now.